Karma Rescue is a non-profit 501(c)(3) organization that transforms lives and creates second chances with our innovative programs that champion at-risk dogs in Los Angeles through rescue, training, and adoption.
History
I started loving animals the day I was born. My mom always let me have pets growing up: birds, hamsters, rats, cats, dogs, and even a chicken. To me of course, these were not my pets but were my babies. If I could have put a diaper on my chicken, I would have. When I was in college, I adopted my first dog, a Beagle named Rufus. Everyone thought I was crazy to get a dog at such an inopportune time of my life. Raising Rufus on my own was one of the greatest experiences of my life. It humbled me and taught me to give unconditionally.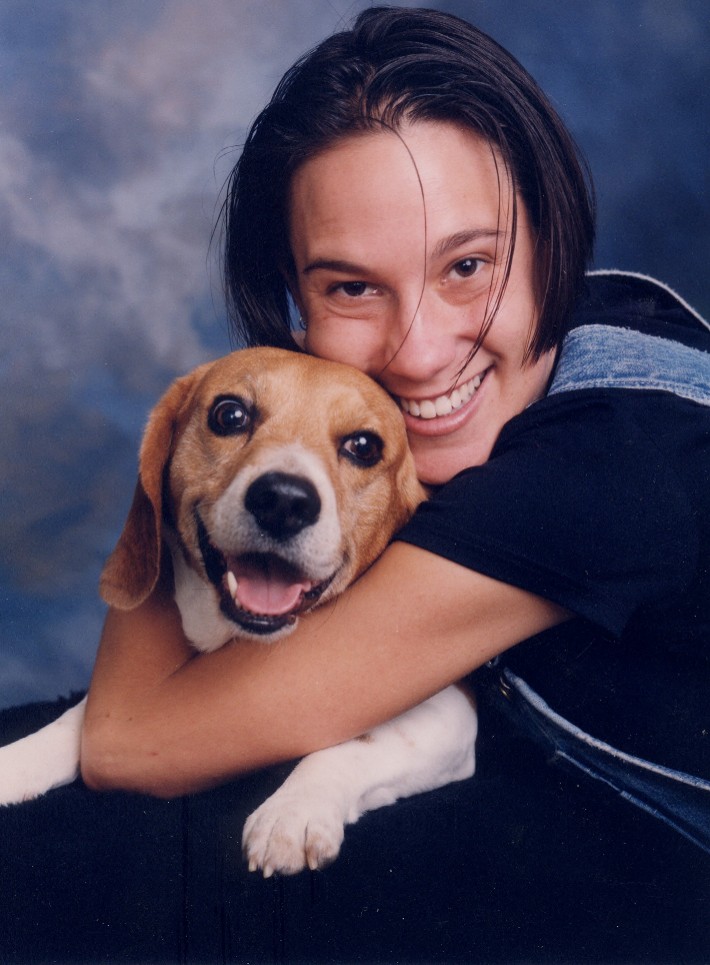 Rande & Rufus
I am a native Angelino, and you can't live here long without at some point realizing how difficult life is for most animals in this city. Every day in this city, approximately 200 American Pit Bull Terriers are killed in overpopulated shelters. Rufus taught me about the profound and unconditional love a dog can have for his human; out of gratitude for what he gave me, I decided to start pulling dogs from shelters and finding them new homes
Having been involved in rescue since 2001 in Los Angeles, I have seen first hand how the suffering and ignorance of humans take their toll on animals in our community: the devastating effects of the recent recession meant that thousands of people could no longer afford to feed, house, or take proper medical care of their pets. Widespread ignorance about the long-term harm of breeding means that thousands more animals end up in shelters, sentenced to die.
In the scars, wounds, and sad eyes of our community's animals, we can sometimes see the worst side of humanity come out. But animals also bring out the best in us: our education program regularly visits juvenile prisons and second-chance schools where we see children who have been otherwise oppositional or discarded by society open up while embracing one of our volunteer-dogs. Project Coco gives food to homeless dog owners and helps ameliorate living conditions for pets whose owners are struggling to make ends meet in these tough economic times. Our spay/neuter program has been enormously successful, helping to stymie rampant overpopulation and dispel myths about the simple procedure.
I envision Karma to be a one-stop-shop for our adopters and the members of the public. I want us to have resources to offer to people that do not have them and do not know where to find them. We can help animals by helping people help animals.
One day, I know that we will be able to help turn around the plight of animals in our city. It is my greatest aspiration that we at Karma Rescue can live up to the unconditional love our animals so eagerly provide us. One animal, one human at a time.
Rande Levine
Founder of Karma Rescue